Monthly Archives: June 2017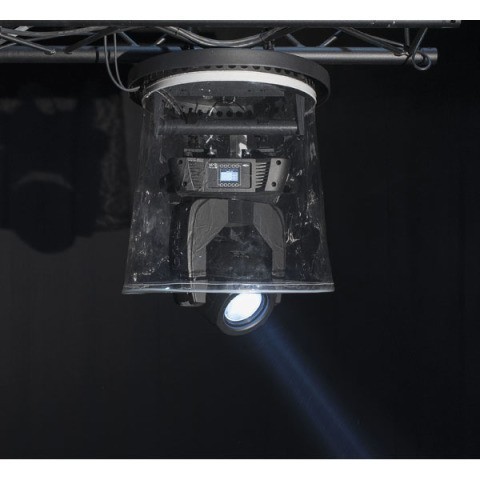 Festival season in Europe – our festivals are often blessed with fabulous weather, but other times we have to put up with rain, mud, and storms. The festivals go on regardless, and all we can do is brave the weather. By protecting our expensive gear and investing in suitable materials, a rainy festival presents no problems – at least for the equipment!
The most popular moving heads for festivals are not IP rated. Mounting them without protection is just asking for trouble. Showtec Raincovers are the ideal solution. They work without the need for electricity, which means they never fail you. They are also compact during transport, and – most of all – they offer the protection necessary for using expensive moving heads outdoors.
The system consists of a base (60 centimetres in diameter) that is covered by a transparent sleeve. The base is fitted with a 50-mm aluminium tube to which devices can be connected. This tube can also bear weights of up to 50 kg. The sleeve is attached with Velcro and is available in lengths of 30, 50, and 65 cm.
Read More